Based on long collaboration for the defense of Human Rights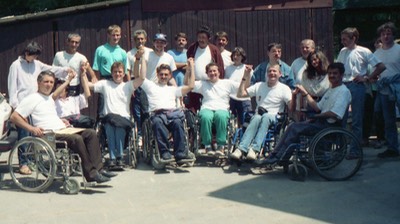 Zagreb, 1992, the peace march of people with disabilities
Based on a long collaboration and several projects in Europe and in Meddle East, a new partnership was elaborated at the occasion of the Hight Level Meeting on Development and Disability with the new 6th DPI Region, the DPI Arab Region. 
When the peoples of the Arab countries undertake with courage in the developing of societies more respectful of Human Rights, people with disabilities are putting their experiences in the service of peoples of good will.
For peace, for protection of people with disabilities in war zones and for their participation to the democratic development, the DPI members unite their efforts. 
-----------------
Memorandum Of Understanding
Between DPI Europe and the DPI Arab Region
Enjoying the effective collaboration between the French Disabled People' Organizations and the Lebanese Disabled People Organizations that exists since 1985,
On the basis of the common values for mutual support and democratic processes shared by the DPI members,
Following the decision of the World Council of DPI in Seoul in September 2007, which engages DPI to establish a new 6th world region of the countries that share the common Arabic language, i.e. the DPI Arab Region -, and which nominates Dr Nawaf Kabbara to take all adapted initiatives to achieve this creation.
Taking in account the cultural and economical links developed between European Union and the countries from the Arab World and the Mediterranean border,
DPI Europe and DPI Arab Region decide to engage a process for mutual support and exchange of expertise on the implementation of the CRPD based on the participation of people with disabilities
To reach this objective, the following issues will be developed in cooperation:
1: Establishment and functioning of regional bodies with the objective to coordinate and support action by the DPI members,
2: Common lobbying in the concerned regional institutions, the Council of Europe and the Arab League, and the Union of the Mediterranean
3: Develop specific cooperation and initiate programs for the training of experts with disabilities.
4: Initiate and realize conferences and seminars with governments and administrations of the Arab Countries and of the European Union